Culture, Art, and History collections comprising of over eight million artifacts are housed in the British Museum, in the Bloomsbury area of London and considered one of the largest and most complete international museums in the world. The museum safeguards historical items, documents, and other such artifacts that give information about the beginning of human existence to date.
The British Museum's doors opened to the public in 1759. Sir Hans Sloane, physician and scientist, had donated his collection to the museum, thus making it one of the most sought after Museums in the world. At that time, the Museum was in Montagu House, Bloomsbury. Since then it has expanded very much protecting historical items, documents and other artifacts for generations to come. The Colonial era of the British Empire had been instrumental to stock thousands of valuable items in the Museum from around the world.
Due to the extensive collection of the Museum, several branches came to exist in stocking them. The British Museum in South Kensington was built in 1881 and was the first to take the excess items from the country's vast museum. Other countries have staked their claims to some of the collection of the Museum such as the Elgin Marbles of Parthenon by showing that they belonged to them. The same building housed the national library and the museum until 1997. Presently, the Department of Culture, Media and Sport are the sponsors of the Museum as a non-departmental public entity. Visiting the Museum is free.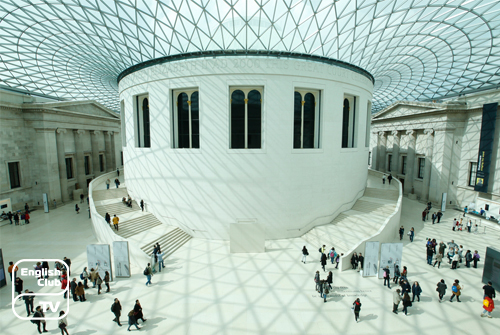 King George II in 1753 approved the parliamentary act to establish the Museum. It was called the British Museum Act. Via the Act, another two libraries i.e. Sir Robert Cotton's Cottonian Library and Earls of Oxford's the Harleian library came under the auspices of the Museum, and in 1757, they were under the purview of the Royal Library. Most of the important collections such as Lindisfarne Gospels and Beowulf can be seen now at the British Library.
Today, the Museum does not safeguard the collection of the natural history. The British Library now holds the Manuscripts and books. The Museum instead contains the ancient and modern artefacts that represent global cultures. From a small collection numbering 1753 objects, to the present collection of over 70 million artefacts in the Natural History Museum and 150 million artefacts in the British Library, the museum now holds the oldest and very rare collection of artefacts in the world.
The Round Reading Room established in 1857 where researchers gathered to view the Museum's Library items, now lies in the Walter and Leonore Annenberg Centre. The Great Court of the Museum opened in 2000.  The Museum today boasts of the largest computerized database which provides details of over 2,000,000 objects in the Museum. Illustrations highlight details of 650,000 items. The Museum also has a 'Highlights' database covering 4,000 objects. This grand museum in the world received 19.5 millions of visitors in 2013.