The Westminster City in the London West End shows visitors the junction of Piccadilly circus. Connecting Regent Street and Piccadilly, the Piccadilly Circus was built in 1819. Circus, which is a Latin word, has the English meaning 'Circle', a roundabout at a junction. Presently, from Piccadilly, the roads run connecting Shaftesbury Avenue, the Haymarket, and Coventry Street and also towards Leicester-square as well as to Glasshouse Street.
The West End of London houses a large number of shops and many venues of entertainment. Piccadilly gets thousands of people round the clock who market and travel around to see the famous historic places in the area. It is a well-known as a meeting place as well. There is a famous neon sign displayed on a tall building on its Northern side. Shaftesbury Memorial Fountain and the Eros statue at the Piccadilly Circus are very famous landmarks of England known around the world. The London Pavilion, Criterion Theatre, Piccadilly Circus and the Tube Station have all become great tourist attractions.
The name Piccadilly first came to be known in 1626 because of a hall by that name. This hall belonged in a house owned by Robert Baker, who was famous for selling piccadills (collars). In 1692, the street running from here was known as Portugal Street. On March 10, 1906, the Piccadilly Circus Tube Station was opened. In 1910 and since 1923, the London Pavilion received many electronic billboards. The traffic lights in this location came to exist on August 3, 1926.The circus was further developed in 1960 to ease the massive traffic flow around it. To resolve the situation, Lord Holford proposed a plan but was rejected. Based on this event, a documentary film called 'Goodbye Piccadilly' was produced. There was not a proposal being brought since then to redevelop the Piccadilly Circus. But in 1980, some development took place to ease the area's the traffic jams.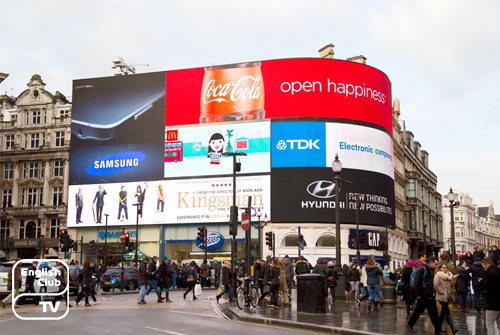 In 1893, the Shaftesbury Memorial Fountain was constructed. It was built to commemorate the 7th Earl of Shaftesbury, Anthony Ashley Cooper. However, in 1948, the statue of Eros in Piccadilly was removed and instead a hoarding took its place. Due to the reconstruction work of the Circus, in 1980, the fountain and the statue were translocated to its current location at the Southwestern Corner. Visitors to Piccadilly can find the world famous chain of music entities such as Tower Records, Zavvi, and Virgin Megastore in this area. Piccadilly also has the well-known shop famous for sporting goods 'Lillywhites'. There is also an expensive food stall called Fortnum & Mason.