A man's great inseparable friend is by far a dog. It has taken a conspicuous place in the British family. The country boasts a vast range of british dog breeds that are being sought after by people from around the world. The medium-size British Bulldog is only one such breed among them. People rear many types of bulldogs such as the American Bulldog, Old English Bulldog, Olde English Bulldogge, and Leavitt Bulldog. Heavier and muscular, the Bulldog has a punched nose with somewhat of an open mouth. Its face has wrinkled skin which gives it a fierce look. Breeding standards of the Bulldog are typically set by the UK Kennel Club, American Kennel Club, and United Kennel Club.
Easy to rear, courageous, always at play and a very patient animal is the Cavalier King Charles Spaniel. It is another favourite dog among the dog breeds. Owners find this type very affectionate and sociable. The Cavalier King Charles lives nine to fourteen years and weighs about 8.2kg when mature. It is native to the United Kingdom and enjoys high popularity among British citizens. Another favourite type of British dogs is The English Setter that comes from the Setter family. Others in the Setters include Irish Red and White, and Gordon Setters. It lives for about ten to twelve years.
Covered with long fur, the Old English sheepdog is one of the large British-bred dogs. It comes from herding generations. Its eyes and face are covered with coats of long fur giving them a lovely appearance. Normally, the Old English sheepdog lives about twelve years. It is very playful but highly intelligent. Inclined towards social friendliness, they appear very loving and easy to be among people. On the other hand, the English springer spaniel is very small. It is a type of gun dog and traditionally used in hunting for flushing and retrieving. However, the Old English sheepdog is very affectionate and a protective animal.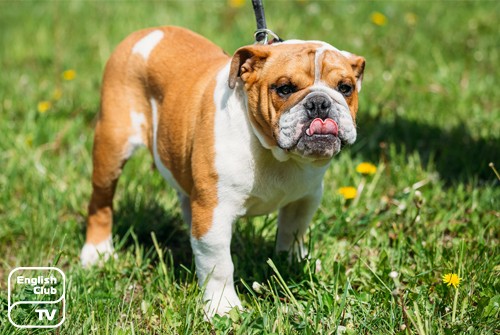 Another dog breed of British origin that enjoys high popularity is the Staffordshire bull terrier. It is short and medium sized. Its fur is short, and the body is muscular. The owners of this type have no complaints about it. Instead, they say this type is very loyal. The Staffordshire bull terrier has descended from bull baiting generations. Available in black, fawn, blue, red and mix of them, this type lives for about fourteen years. An ornamental type of dog, the Field Spaniel, is medium size. It came to exist in the nineteenth and twentieth centuries. It lives about twelve years and grows about 46cm in height.
Among the other popular breeds of British dogs that are sought after include the Bull Terrier, Yorkshire terrier, and Otter hound, Pembroke Welsh Corgi, English Cocker Spaniel, and the Border collie. There are also, the English Mastiff, English foxhound, Airedale Terrier, Pointer, Beagle, Shetland sheepdog, Golden Retriever, American Pit Bull Terrier, and King Charles spaniel that also enjoy great prominence among dog breeds.